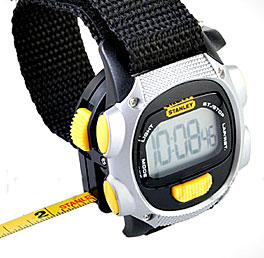 Stanley
Tool watches
The famous tool maker Stanley have released a few gadget watches with Tools incorporated into them. Considering you will have this tool strapped to your wrist constantly you better pick one that you have a burning need for!
With the Stanley Tape measure watch you wont get caught unawares when you're in sudden need to get the measurements of something, you wont be found wanting in the measurement department, since it comes with a 3ft long tape measure.

Also comes with the following functions:
Real-time calendar clock
Daily alarm and hourly chime
1/100 Stopwatch with split function
Electrolumniesent (EL) backlight
Company Website: Link
Price: $50-70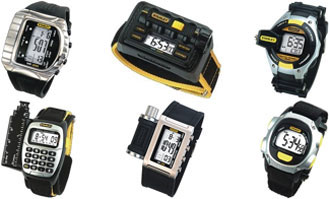 Other watches in the range include:
The STA-2001-BK has a built-in flashlight.
The STA-2002-SV has a hex wrench.
The STA-2003-SV turns into a screwdriver.
The STA-2004-SV has an attached telescoping rule.
Best of all, the STA-2006-SV turns into a vice!!