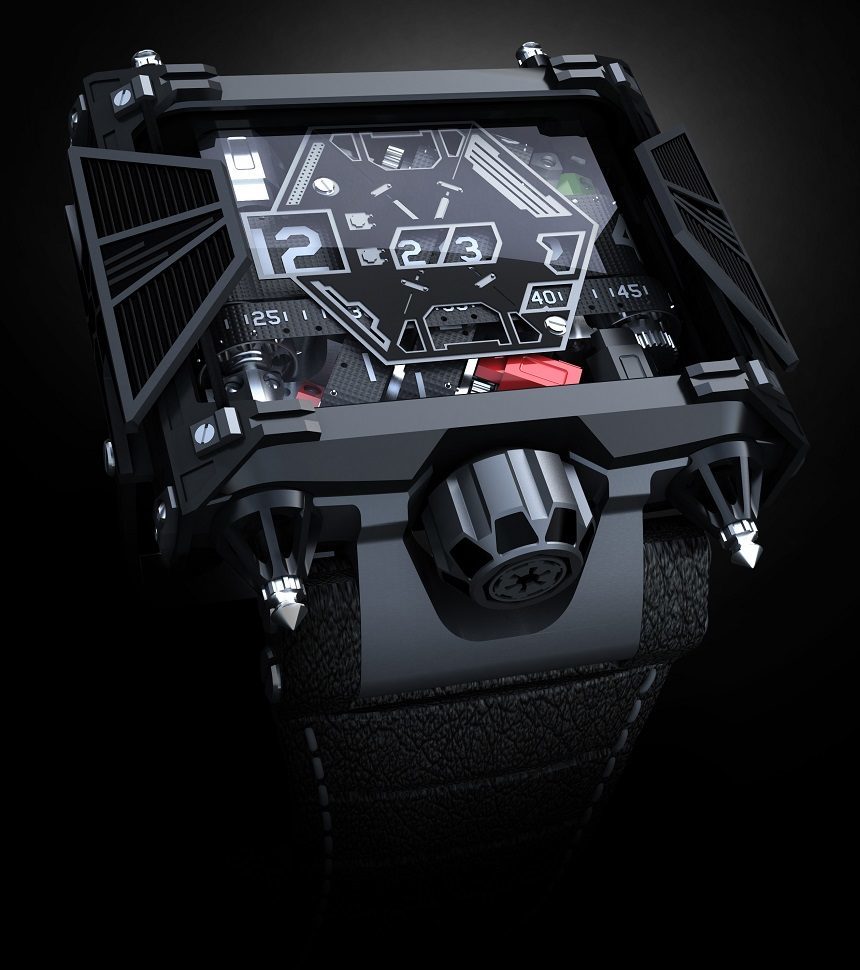 The release of Star Wars: The Force Awakens has lead to companies around the world excitedly launching Star Wars themed products.
Devon, an American company famous for its Tread model watch which uses four tiny microstep motors to drive the movement have created a striking new and very limited Star wars watch, a more high end timepiece to attract the wealthier Star Wars fans out there. Only 500 will be produced and they cost  $28,500 each. They are a celebration of Devon's fifth anniversary and made in partnership with Disney and Lucasfilm for Star Wars. It is a revised version of the Devon Tread 1 covered here.
The Devon Star wars watch is made from 316L stainless steel,  has a true black diamond-like coating case and various design elements incorporated into it. It uses elements from Vader's helmet in the case, the Imperial Crest having been embossed on the crown and the iconic TIE Fighter wing design incorporated into the body, and if thats not enough the strap is made with leather textured similarly to Vader's gloves.
Glass-reinforced nylon belts (same as used in the gauges on the original 747 aircraft) are used for indicating time and the movement uses high tech multiple high-tech optical recognition cells, micro-step motors, and no less than 313 electrical contacts.
The battery lasts two weeks and is charged wirelessly. This Star Wars watch comes presented in a TIE Fighter display case along with a set of TIE Fighter cufflinks.
The 500 watches, produced over a two-year period come in an imposing 61mm wide and 22mm deep case and can be pre-ordered here with a $2,500 deposit.
More at devonworks.com