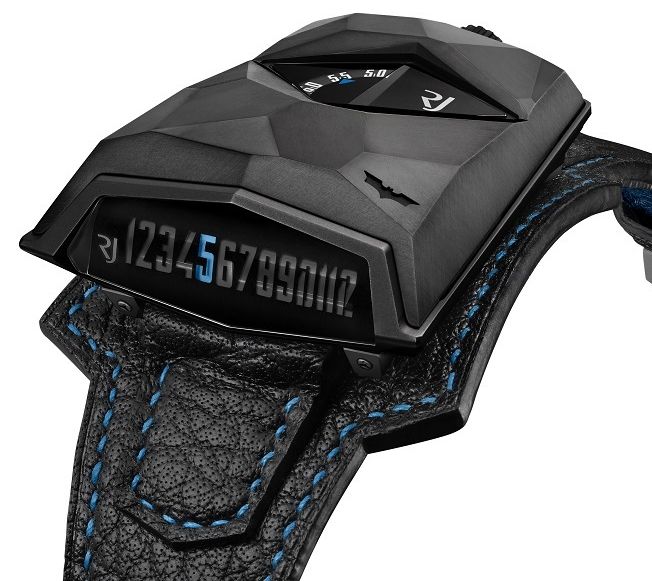 Founded in 2004 by Manuel Emch, Romain Jerome's newest creation designed to enable the vigilante of Gotham City to avoid tardiness is based on their Spacecraft model: the Romain Jerome Spacecraft Batman.
Likely to divide opinion this is not the first model the independent Swiss watchmaker has designed that's been inspired by the famous superhero from the DC Comics universe.
Previously they released the Batman-DNA, unveiled at Basel this year featuring a Bat-Signal using Super-LumiNova C1 in black-blue.
Similarly to the Batman-DNA model the Romain Jerome Spacecraft Batman has stealth faceted casing reminiscent of the Batmobile and the finish gives it a more stone-like appearance than metallic.
In order to read the time you will need to glance at two different places:
The hour display uses a bright blue indicator and is positioned on the side of the case, whilst the minute indication is on top displayed on a rotating disk using black accented by a blue cursor.
Like the DNA-Batman, Batman Spacecraft is powered by a mechanical movement with manual winding.
The Romain Jerome Spacecraft Batman is a limited edition of 75 and retails for $32,950,  you can find more on the Spacecraft Batman watch at the Romain Jerome website