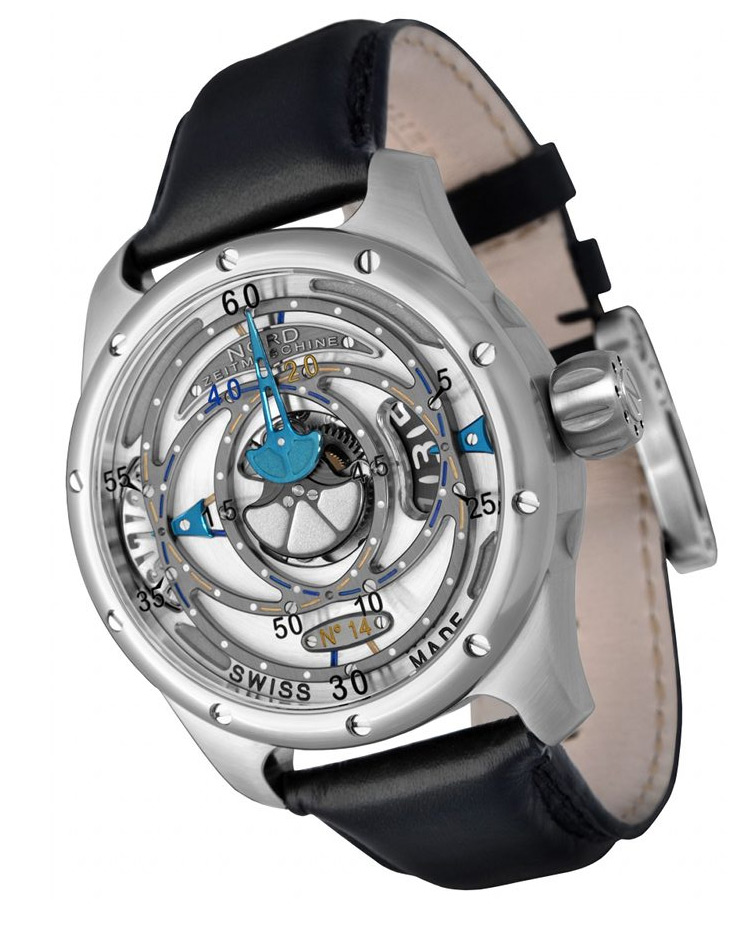 Daniel Nebel formed Nord Zeitmaschine (North Time-machine) in 1998. Working in the field of prototype machine construction he developed the brand in his spare time and two models are currently being shown at Baselworld, both using unconventional dials.
Announced a few days ago was the Quickindicator a watch with the worlds fastest minute hand – traveling at more than twice that of a normal minute hand. As a guide to how fast minute hands travel, a typical minute hand will travel at 88mm/h however the Quickindicator minute hand moves at 205mm/h.
The hand rotates on two axes one being the hand axis itself and the other being the rotating platfom that the hand is mounted on. Reading the minutes is more complex than with a traditional dial. The minute hand lines up with three superimposed discs which are colour coded either blue, red or green, with laser engraved minute increments.
Reading the hours and date is straight forward by comparison, the hours are indicated by a dial that is viewable through an aperture at the 3 o'clock position while the same type of display indicates the date at the 9 o'clock position.
The dial of the Quickindicator is available in three versions each being limited to 97 pieces and priced at CHF13,500 .
The other model is called the Variocurve (pictured below). This also features a novel way of indicating the time using another kind of decentralized minute hand which slides as it rotates around the dial. This hand indicates the minutes by way of two semi-circular discs displaying numbers and dots in the top half of the dial.
Both these interesting and unusual watches use ETA 2824 movements with the modules mounted onto them, all the rest of the components (barring hands) are engineered single-handedly by Daniel Neber in his small Nord Zeitmaschine workshop. Its worth checking out the videos to appreciate the uncommon movement the dials display.
The Variocurve is also limited to 97 pieces and comes in four different versions. For more information on these models visit
Nord Zeitmaschine