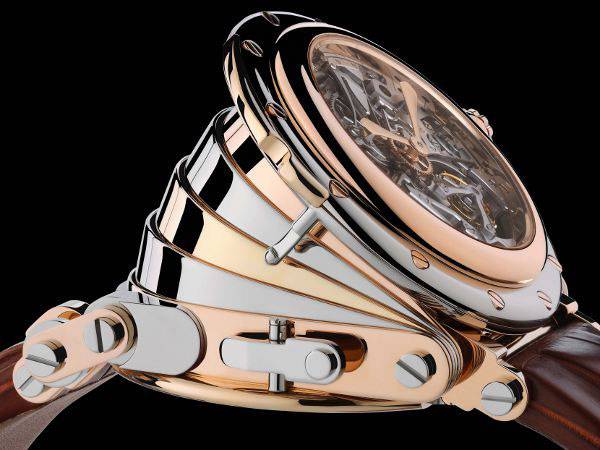 Voltaire, a French Enlightenment writer famous for his wit and advocacy of civil liberties, including freedom of religion and free trade was apparently the inspiration behind the Manufacture Royale Opera. Would he have approved? Hard to know. Its quite an extravagance, given the time in which he lived , probably only Louis XV could have afforded to buy one of these! To paraphrase Voltaire, if this watch didn't exist would it be necessary to invent it? Well I'm sure there probably was a void for a $1.2m watch with the unique capability of creating a hollow chamber to improve the acoustics of its minute repeater..
Its novel aspect is obviously the way it can extend itself , accordion-like through use of an articulated device. Titled the "Opera" the idea behind this construction is to create a chamber to amplify the resonance of the watch's minute repeater.
The Manufacture Royale Opera features a manually wound movement with a Tourbillon and the minute repeater has a C sharp chime for the minutes and a chime in A for the hours. Housed inside a 50mm 18k rose and gray gold case.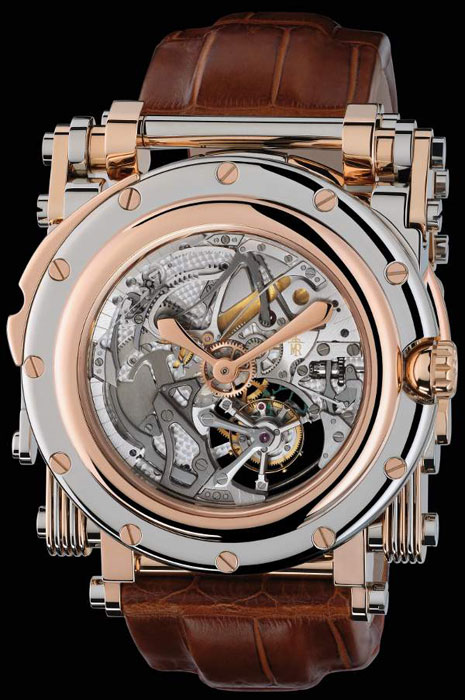 Find more about the Manufacture Royale Opera at theManufacture Royale site.
Price:$1,200,000