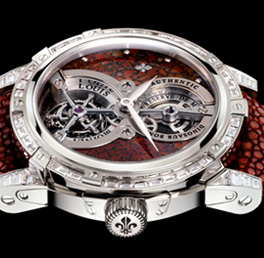 Part of an actual fossilized dinosaur bone found in Western North America from about 150 million years ago is contained within the dial of the Louis Moinet Jurassic Tourbillon.
A particularly exceptional example was chosen by specialists due to its beautiful colouring and veining. The watch box comes with a genuine fossilized dinosaur egg to complete the theme.
The Louis Moinet Jurassic Tourbillon is a limited edition of 12 watches to be released.
Price:CHF310,000
Source: Louis Moinet