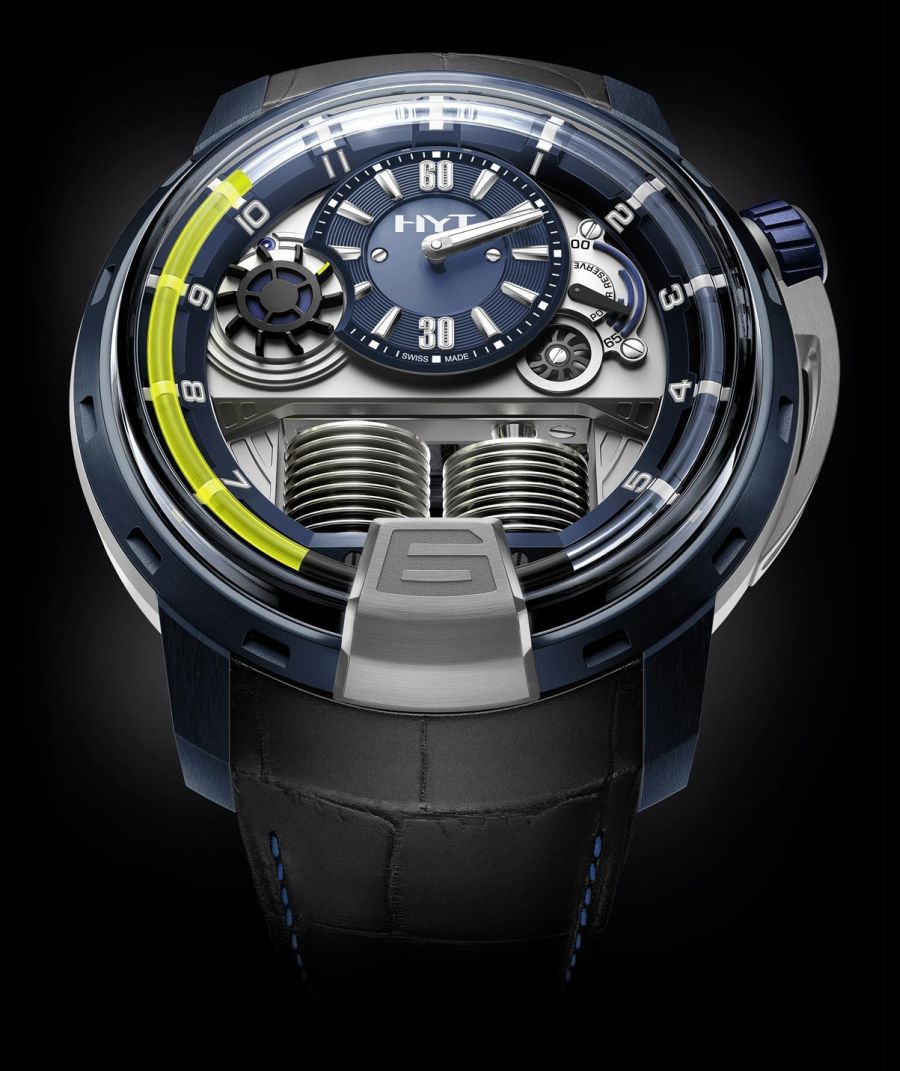 The HYT H1 Alumen Blue, a new version of this unusual watch using liquid to tell the time.
Fluids and mechanical watch technology do not go so well together. So how does someone get it into their head to take a liquid reservoir and put it in a watch case? In 2002, that was exactly what Lucien Vouillamoz wanted . He had already been pondering for a while the idea for a "water watch". 
The problem was how to use clepsydra (the Latin word for a watch or clock that tells the time by means of running water), in a portable, waterproof watch was casting..
A few years later, the former nuclear engineer with a degree in thermodynamics came up with the solution: Use two flexible fluid reservoirs which are both fastened at one end of the same tube. After careful tests with a prototype and patent applications on the new invention, Vouillamoz along with Vincent Perriard, CEO of watch brand HYT launches the venture. Jean-François Mojon of Chronode develops the first model, the H1.Vincent Perriard asks Etude Style design lab to make the design of the H1 on their behalf. Preciflex, led by Lucien Vouillamoz, supplies the components of the fluids. The first model arrived in 2010, when the first HYT 'Water Watch', with red details was displayed at the Baselworld Fair in Basel, Switzerland.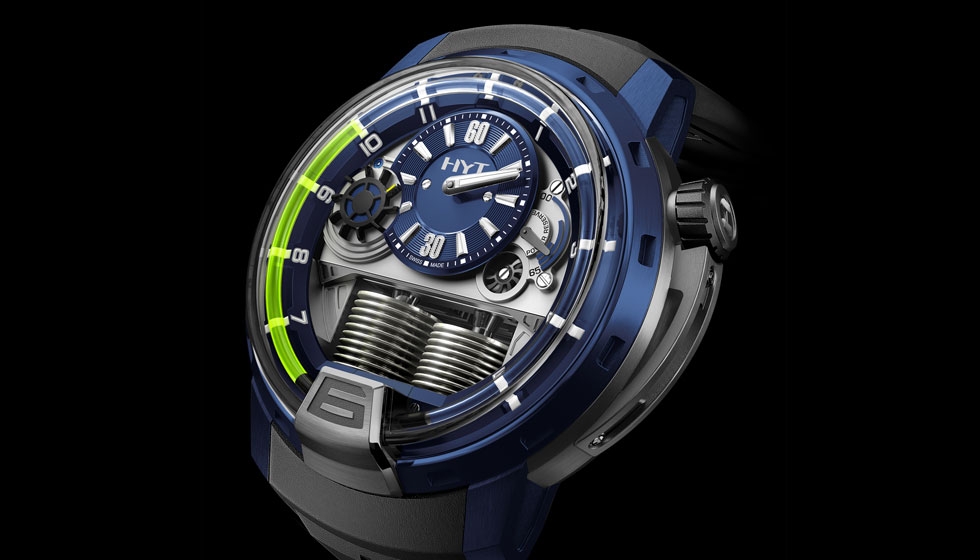 This year HYT presents a new, ultra-light version of the H1, H1 Alumen Blue. The case measures 48.8 mm. in diameter and is made of an alloy rich in aluminum, the so-called ALUN 316B. The liquids are colored blue in this new version of the H1, which contrasts nicely with the bellows and the titanium dome at 6 o'clock coated with rhodium.
The luminous fluid moves through the tubes of the index ring to indicate the time in hours , which happen in retrograde. The minutes are displayed in a display at 12 o'clock, the seconds have a separate dial at 10 o'clock, and the watch has a power reserve indicator at 2 pm and must be wound by hand. It contains an exclusive HYT-caliber 65-hour power reserve. The alligator strap is rubber coated. The watch is water resistant to 100 meters.
The HYT H1 Alumen Blue comes in a limited edition of 50 pieces for € 59,000.
For more information on www.hytwatches.com