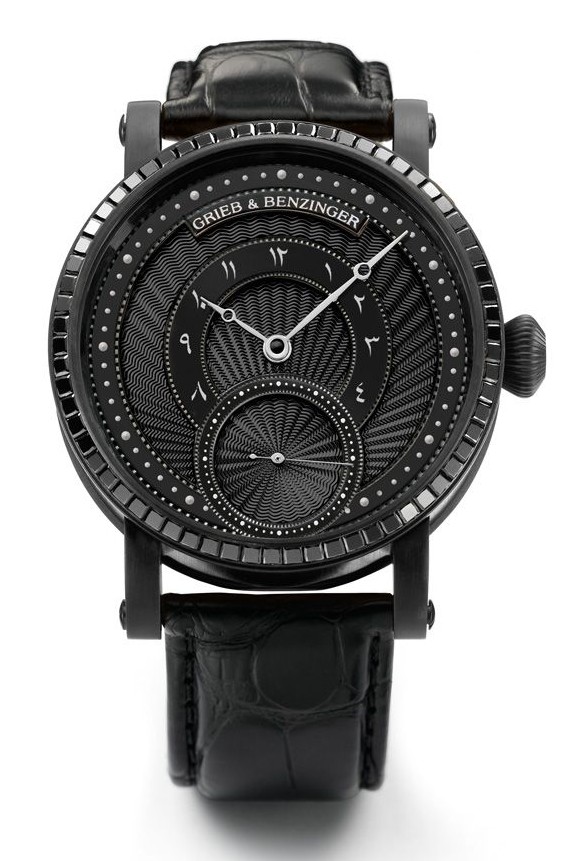 Grieb and Benzinger specialize in creating watches with handmade dials and taking vintage and antique movements and bringing them to life again. This is done by painstakingly reworking them so they bear little resemblance to their original state.
For the first time they have released an entirely black model, the Grieb & Benzinger Pharos Centurion Imperial in Palladium with Black Diamonds. Its based on a model that was commissioned by an Arabian collector – hence the primary dial features Arabian script numerals.
The detail of the dial is meticulous and beautifully subtle and features a hand done guilloche by Jochen Benzinger. By using contrasting silver hands instead of a complete black colour scheme readability in low light conditions is also assured.
Decorating the bezel are sixty-six Princess cut black diamonds, forming a pattern of little black squares. Housed inside a black DLC coated Palladium case (less dense and therefore lighter, but no less lustrous than platinum) is a manual winding movement which has a Unitas base that has been modified by Hermann Grieb ; minutely detailed carving has been applied to almost every surface and can be viewed through a  sapphire glass case-back.
Grieb and Benzinger, only create a small number of watches each year, this latest one is priced at €82,000, you can read more about their watches on their website.