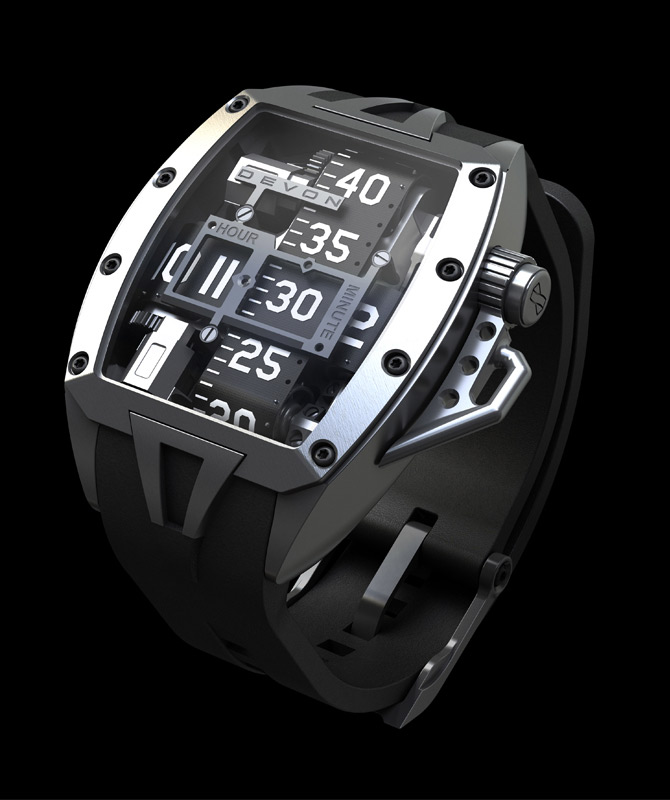 American timepiece manufacturer DEVON has announced that its highly anticipated, electro-mechanical  Tread 2 timepieces are on their way to retailers now. Over 300 preorders were taken for the Tread 2 at Baselworld 2013, and the new Devon Works lab in Pasadena is running at full steam in order to fulfill these orders.
While the Tread 2 uses DEVON's distinctive Time Belt movement, it presents a sleek and uniquely refined visage that's sure to appeal to a very broad audience. The Tread 2's hybrid system runs on a lithium-polymer rechargeable battery that can power the movement for up to 28 days, or four full weeks of constantrunning. And when recharging is necessary, simply placing the Tread 2 on its charging cradle for a few hours is all that's needed.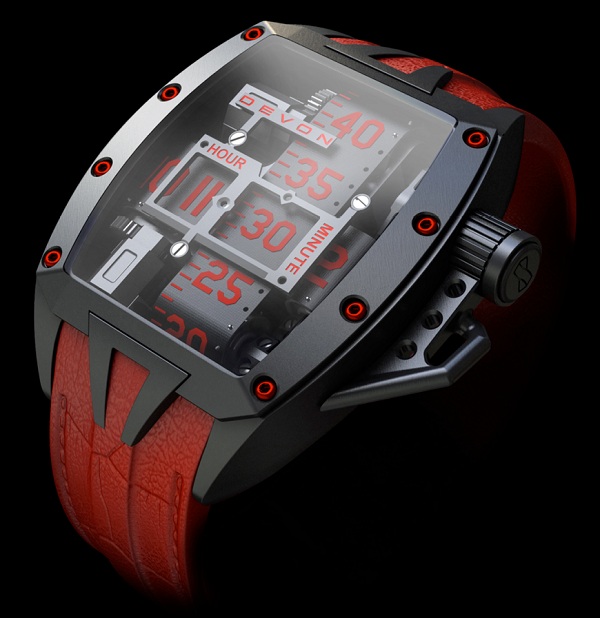 The Tread 2 features DEVON's patented movement technology consisting of a set of interwoven Time Belts used to display the current time. The horizontal belt displays the hours while the vertical belt displays the minutes. The movement is neither purely mechanical nor purely electric, but is a hybrid of the two. The reason is that even though the Time Belts weigh only microns they are under tension and a massive amount of energy is required to power the Tread movement. To make for a reasonable power reserve, DEVON employs a rechargeable lithium-polymer battery pack as opposed to a mainspring. Control of all of the movement's functions is handled by a specialized microcontroller, which is essentially a mini-computer nestled in the center of the Tread 2.
"Our products are designed, developed, engineered and manufactured in Southern California with American aerospace engineers and suppliers who are not constrained by tradition or status ‐ quo but are accustomed to pushing the boundaries of what's been done before," said Scott Devon, the company's founder.
Control of the watch is achieved through the use of the beautifully sculpted articulating crown lever with a pushbutton located in its center stem. Different modes such as seconds display and  chronograph are accessed by either pulling up or pressing down on the crown lever while start/stop is  achieved by pressing in on the pushbutton. The crown lever is finished with a bead-blasted finish while the stem is finished with a texturing machining process and engraved with the Devon Helix logo.
DEVON timepieces can be found through an ever ‐ increasing network of over 120 select retailers in countries all over the world.
The Devon Tread 2 will have a price under $10,000 (compared to close to $20,000 for the Tread 1)
Specifications
• Stainless Steel case measuring 42mm wide, 44mm deep and 14.5mm thick316 L
• 1mm thick sapphire crystal
• Water resistant to 10M
• Black Leather Strap
• .002" thick glass reinforced, Nylon Time Belts©
• Lithium polymer rechargeable
• Inductive wireless charging system
For more information, please contact Ehren Bragg, Managing Director of DEVON at +1 (310) 402-
1530 or visit www.devonworks.com.