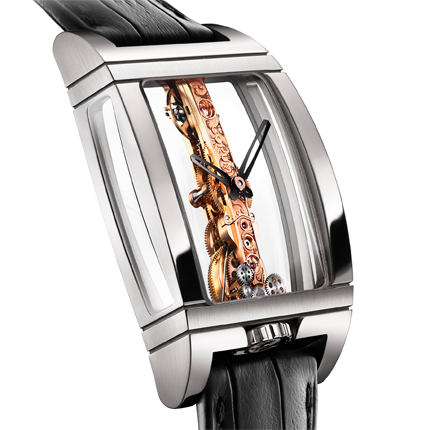 Pictured is the Titanium hand-wound version of the Corum Golden Bridge.
The mechanical Golden Bridge movement made a strong impact right from the time of its first presentation in 1980. Over 30 years ago, this exceptional baguette movement with its innovative construction wrote a new chapter in the history of watchmaking.
Introduced in 2011 for the very first time was an automatic version – with linear winding – which heralded a new era in the legend of this unique movement.
Few mechanical movements have had such a significant impact on horological history. The legendary Golden Bridge, first presented by Corum in 1980, has since then revealed the full measure of its powerful and enduring appeal.
This impressive baguette movement, built in a straight line and calling for exceptional watchmaking expertise, has adorned some of the most fabulous timepieces by the brand from La Chaux-de-Fonds.
In 2009, the Golden Bridge baguette inspired the creation of the sophisticated and contemporary Ti-Bridge model, while 2010 saw the arrival of the first Golden Bridge tourbillon movement. In 2011, this amazing lineage entered a new era with the arrival of the self-winding Golden Bridge movement equipped with a linear oscillating weight.