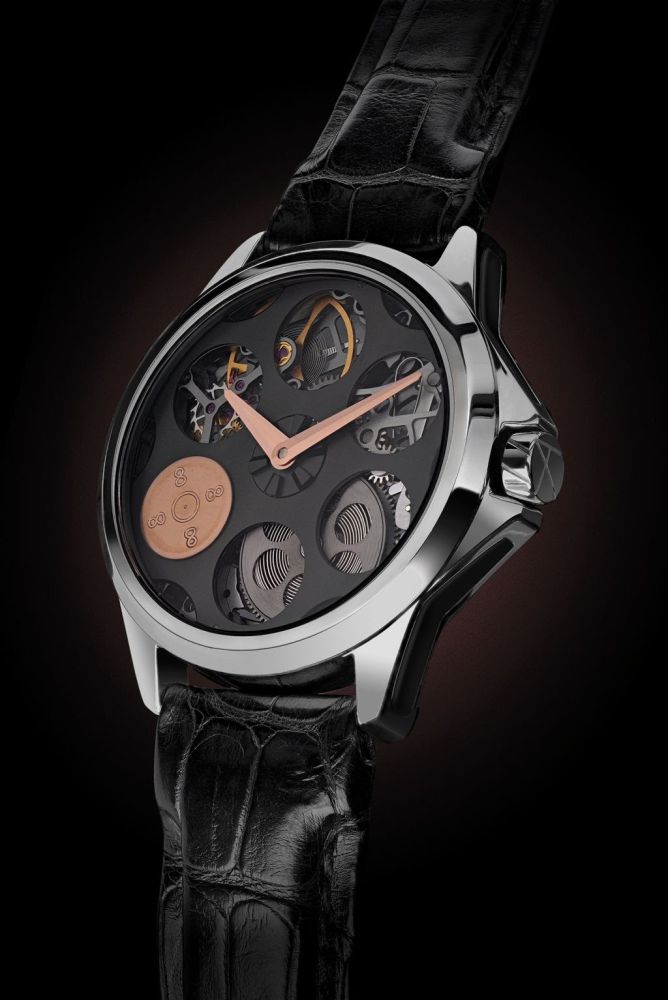 Artya is an unusual watch brand that creates "watch art" by employing two teams of people in their workshop, one team is made up of artists and the other watchmakers together they come up with some very interesting designs, here are a couple of new Artya watches for 2014.
The Son of a Gun Russian Roulette watch isn't the first timepiece by Artya to use firearms in its design – I wrote about the first one here called simply  "Son of a gun", the concept for these watches is that "time is a killer" and the bullets are intended to metaphorically portray this concept. For the promo of this piece its states "because you can see the time but do not know when your time will come! Such is basically the message conveyed by this Son of a Gun Russian Roulette."
Unlike the original Son of a Gun this version features a spinning dial – just as you would spin the chamber of a gun when playing Russian Roulette (see video below) as well as adding more visual interest to the design. The dial is like a rotor and spins with the movement of your wrist and contains a single 357 Magnum round end which has been hand-applied, including this makes perfect sense since Russian Roulette involves a chamber with a single round in it.
The case is quite dressy in style and features an  integrated crown guard which add a more sporty aspect to it.
Artya is known for its production of piece unique watches meaning that no two pieces are alike, however the Son of a Gun Russian Roulette watches in steel are an exception though and  will be part of a limited edition of 99 pieces.
It features a mechanical hand-wound Unitas base movement and is encased in either a steel or  18K pink gold case with a crocodile leather strap.
Retail is 7,900 Swiss Francs in steel , 29,800 Swiss Francs for the solid gold versions.
For the next piece is in the realm of musical instrument-themed horology and is a new version of the Artya Son of Sound watch, its "back in black" you could say. It has a 42mm case shaped like the end of a guitar (the head) and a face featuring lots of guitar infused design cues note the strings in the centre. Artya describes it as a "riff-saturated revelation" .
It has a high-end mechanical automatic movement, apparently co-developed by Concepto and SC2, which powers the time functions as well a chronograph which is activated using the tuning peg style crowns – according to Artya is has a patented "Active Tuning Pegs System" (ATPS).
This is a more refined watch from this brand and will no doubt appeal to musicians as well as watch lovers looking for something unusual.
The Black PVD-coated steel case comes on a Crocodile leather strap and retail prices: CHF 18,900 USD 20,060 € 15,650