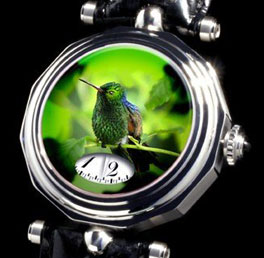 New from their "Artisan" line of watches comes the stunning "Verre Eglomise" or "reverse enamel painting", featuring an exquisitely life-like green humming bird painted in reverse on the back of the sapphire crystal.
A single disc with a cut-out window rotates to display the time and this unique watch is presented in a dodecagon case of sparkling steel and has a crown with an elegant onyx cabochon.
Swiss automatic movement.
Source:Angular Momentum
Price:$20,000