G shock watches
were first introduced in the the early 1980's and despite failing to capture the domestic Japanese market at first, they were popular enough overseas to help extend their production.
Eventually the Japanese market picked up too and G shock watches have gone from strength to strength proving to be extremely popular worldwide, fueled by their reputation for being uniquely tough sports watches and possessing a chunky style that has captured the publics imagination.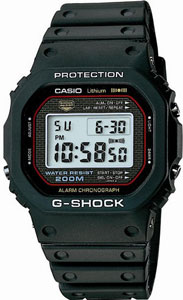 Released in April 1983 the very first G Shock watch was designed by engineer Kikuo Ibe and was model number DW-5000C.
DW-5000C Specifications
Retail price: 11,400 yen (tax excluded)
Resin BandHigh-impact structure (resist shock)
Screw back
20 pressure waterproof
Stop Watch (1 / 100 second, a total of 60 minutes, rap, with alarm elapsed time)
timer (Combo unit: 1 minute, set up to: 11 hours 59 minutes, measured in seconds), with the remaining time alarm
Time alarm bell
battery life of about seven years
Auto Calendar
12/24 hour display switching system
Early Development
Kikuo Ibe's desire to create an indestructible watch was fueled by an experience he had when he was a child. As a schoolboy he received a precious watch from his father which he dropped on the floor and saw shatter into pieces, it was this nightmare experience which fed his motivation.
He worked hard at his lab in a Tokyo suburb in an effort to create an unbreakable watch: "Day after day, I would make prototypes and drop them from the window".
He finally came up with the idea of a "floating module configuration" after having seen a girl playing with a rubber ball in a nearby park. Rather than surrounding the watch with shock absorbing materials he decided to use a hollow structure inside the case.
The hollow section in between the movement and the case means that the movement is floated within, as a way of creating shock absorption. The buttons and glass are protected from direct shocks by use of a bezel design that uses urethane-resin.
G Shock Principles
In order to create a watch that could be considered to achieve their aims Casio engineers followed a "Triple 10" development; they laid down three goals to aim for, these were:
10-meter free-fall endurance
10-bar water resistance
10-year battery life
Over 200 experimental prototype G Shock watches were built for endurance testing, parts improvement and structural development over a period of about two years before they eventually achieved their goal.
"Masters Of G"
Casio continued to further develop the toughness of the g shock watches after they became famous. They brought out special G Shock versions that showcased newly developed technology giving them added special resistance qualities.
These became called the "Masters of G" series and were usually denoted by a "man" suffix , they started with the DW-5500C aka the "Frogman" in 1993 named with scuba divers in mind. The Frogman is still in production and possibly the longest running G Shock watch as well as being one of the most popular from this series.
All "Masters of G" g shock watches are water resistant to 200 meters and suitable for diving. The Gaussman, Raysman and Mudman all feature cases that are completely surrounded by thick rubber for mud-resistance with the Gausmann being ISO certified anti-magnetic.
Two of the most popular models still being made are the "Riseman" and "Gulfman".
The Riseman was first introduced in May 1997 with model DW-9100. The Riseman brings together the toughness of the G Shock models combined with the core features of the Casio Pathfinder models so its a good hiking or military watch or gadget watch. Functions include thermometer/barometer sensors providing weather, altitude and temperature functions among others.
The Gulfman was first introduced in May 1999 with model DW-9700, originally this model was aimed at surfers, divers or other marine based activities although the recent atomic Gulfman models have become more general purpose gadget watches.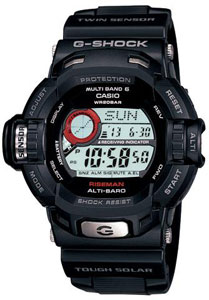 "Riseman" GW-9200 and "Gulfman" GW-9110 g shock models.
Here is a complete list of the "Masters of G" series of G Shock.
Frogman – Scuba diving

Model No:

DW-6300, DW-8200, DW-9900, GWF-1000, GF-8250-9JF
Gausmann – Anti-magnetic

Model No:

AW-570, AW-571
Riseman – Hiking/Military

Model No:

DW-9100, GW-9200, G-9200
Gulfman – Surfing

Model No:

DW-9700, DW-9701, G-9100, GW-9100
Codename – Spy (morse code/ID)

Model No:

DW-8500, DW-6697, DW-8800
Lungman – Health (heart-monitor)

Model No:

DWG-100
Revman – Twin Chrono

Model No:

MRG-1200
Raysman – Solar powered

Model No:

DW-9300, DW-9350
Wademan – Hiking

Model No:

DW-9800
Antman – First atomic sync

Model No:

GW-100
Mudman – Dirt/mud resist

Model No:

DW-8499, G-9000, GW-9000