Another very cool, and very expensive watch from Urwerk has been released.
Urwerk are probably best known for their signature satellite indicators with spinning hour markers. Their latest model has a three dimensional cage that was apparently inspired by the beak of the Maltese Falcon. Either side of this are a traditional power reserve indicator at one o'clock with a red/white indicator. While on the opposite side using red/green there is the worlds first "winding efficiency indicator".
The "winding efficiency indicator" measures the amount of energy that is being supplied to the automatic movement via the rotor over the last two hours. So if you have been lazing on the couch during that time then it will likely read red but if you have been much more active over those last two hours the indicator will be pointing more to the green part of the dial.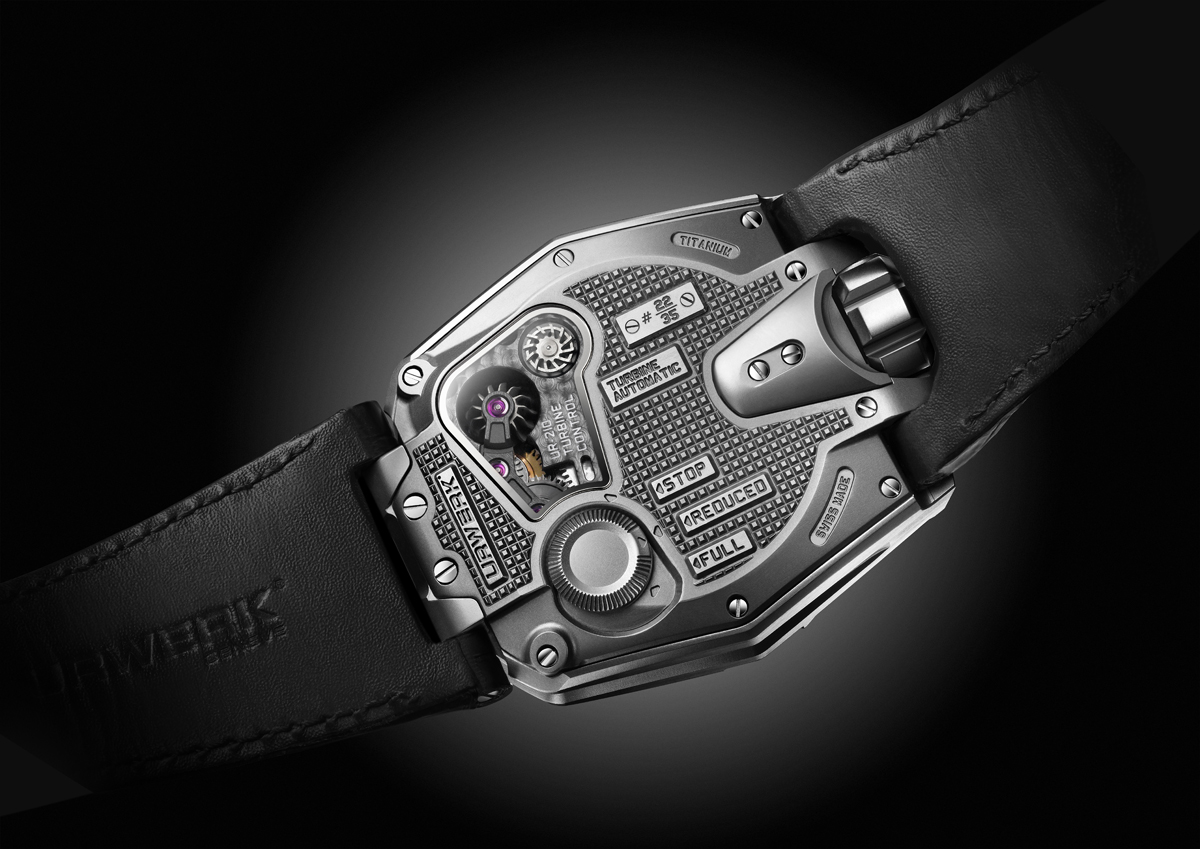 On the back of the watch there is a selector to control how sensitive the rotor is. The smallest movement will wind the movement if it is on its lightest setting and on the heavier setting more movement is needed to drive the rotor. In case you are involved in an activity that could cause shock to the rotor and movement you can also turn off the rotor.
The first batch of ten pieces will arriving at retailers in October with a price of 137,000 CHF (approximately $146,113 USD).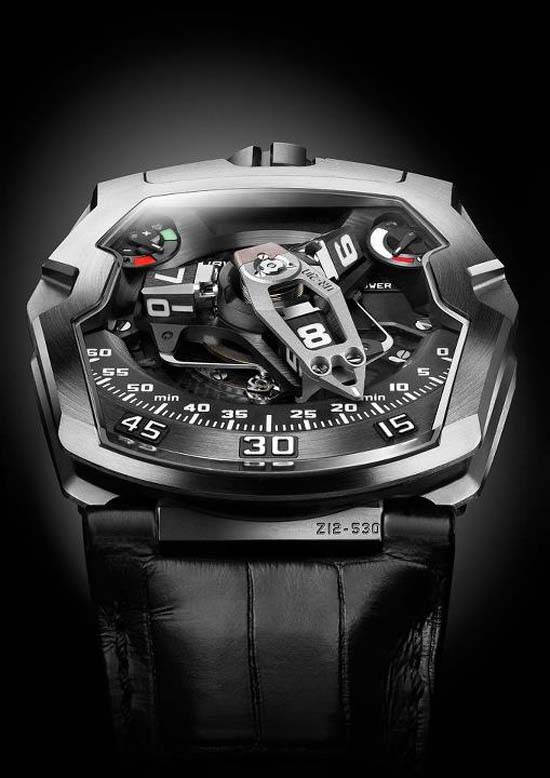 Specifications
Case
Material: Titanium and steel
Dimensions: Width 43.8mm, length 53.6mm, thickness 17.8mm
Glasses Sapphire crystal
Water resistance 30m/100'/3ATM
Surface finishes Satin finish
Movement
Caliber UR‐7.10
Jewels 51
Escapement Swiss lever
Balance Monometallic
Frequency 28,800v/h, 4Hz
Balance spring Flat
Power source Single mainspring barrel
Power reserve 39 hours
Winding system Self‐winding coupled to turbines
Materials Plate in ARCAP P40; 3D minute hand in aluminum with brass
counterweight; central cylindrical spiral in spring‐steel; hour satellites in
aluminium; central carrousel and screws in Titanium Grade 5.
Surface finishes Circular graining, sandblasted, circular and straight satin‐finished plate;
satin‐finished and diamond‐polished satellites; beveled and polished
screw heads.
Indications Patented revolving satellite complication with wandering hour and
three‐dimensional retrograde minute hand; power reserve indicator;
winding efficiency indicator (patent pending).
Super‐LumiNova treatment on markers, dials, indexes, hands, and
satellites
Controls Two‐position winding crown
On the back: winding efficiency selector