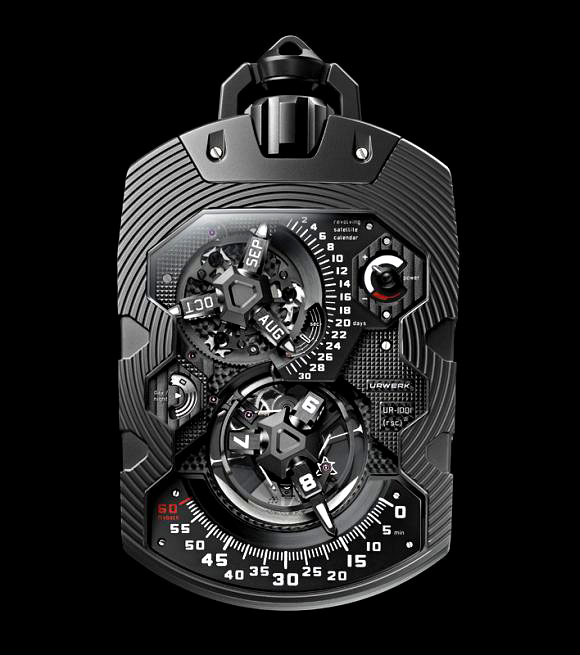 The stunning (and no doubt stunningly expensive) Urwerk UR-1001 Zeit Device watch is described by Urwerk as an "Uber Complication" and with its futuristic looks it certainly has an uber cool appearance too.
Immediately recogniseable as an Urwerk, it is their first "pocket watch" or as they prefer to call it "Zeit Device", its also their first model to feature a double satellite display. One indicating hours similar to the UR-203 model and one indicating the month. As each satellite revolves the individually numbered cubes rotate to indicate the time and date.
The UR-1001 took four years to develop and being a pocket watch meant that Urwerk were able to fit more into it mechanically than is possible with a wristwatch, so they were able to include an array of complications and show off their horological prowess.
Limited to just 8 pieces the Urwerk UR-1001 features 10 complications, many of which are unique to Urwerk, including:
Satellite hours, retrograde minutes, day/night indicator, running seconds, power reserve indicator, revolving satellite calendar displaying months plus date, Oil Change indicator, 100-year indicator and 1000-year indicator.
Urwerk describe it in space age terms, the display includes " orbiting satellites and a comet-like flying retrograde" -no jokes about astronomical price tags please.
The oil change indicator lets you know when the watch is due for a service (typically about 5 years) and the 100 and 1000 year indicators let you know how long the watch has been running, having this go up to 1000 years is certainly an impressive backing of their build quality!
It uses an automatic (with manual wind) movement that has a 39 hr power reserve and is housed in a case is made from AlTiN which stands for Aluminium Titanium Nitride, an industrial surface coating, measuring 106mm x 62mm x 23mm (similar to an iPhone) it is also water resistant to 3 ATM.