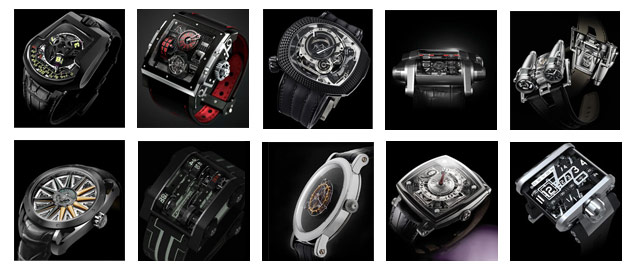 2010 was a good year for admirers of unusual, unconventional or unique watches.
Here is a selection of some of those timepieces that break with the traditional constraints of watch design.
The amount of engineering in some cases is phenomenal, especially when you consider that essentially their end purpose is to tell you the time (or not in one case).
As watchmaker Cabestan states: "telling time is secondary to satisfying the human need for bold originality".
The incredibly convoluted and unique ways in which these pioneers in the art of innovative timekeeping achieve their aims makes them technological wonders or even pieces of mechanical art.

Hopefully 2011 will bring more novel time measurement instruments!
[box type="shadow"]
January 2010 – Urwerk 203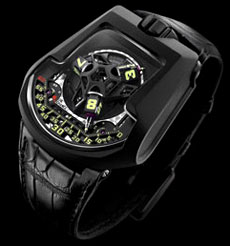 "We create unique watches because each has been conceived as an original work" Felix Baumgartner states. He formed Urwerk in 1997 along with designer and friend Martin Frei. The name is derived from the city of Ur "where our perception of time was molded over 6000 years ago by the moving shadows cast by the obelisks of Ur" and the German for "work".
Their UR-203 model features a dial using a "patented revolving satellite complication with integral telescopic minutes hands". The use of the word "satellites" is significant because designer Martin Frei draws inspiration from Spaceships, his father having…
Read More


[/box]
[box type="shadow"]
January 2010 – HD3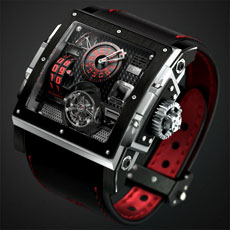 With the success of the Vulcania model, HD3 brought out its bi-axial tourbillon with the launch of the new and most exclusive Black Pearl range.
For this new adventure Fabrice Gonet was inspired by the wonderful era of pirates and buccaneers, to which he added the retro-futuristic steampunk style so uniquely characteristic of Vulcania.
Read More


[/box]
[box type="shadow"]
February 2010 – Ladoire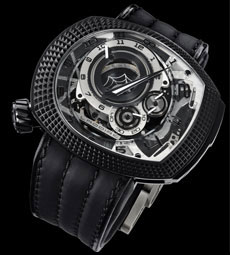 Ladoire Geneve make avant-garde timepieceswith complications. They are a fairly new Swiss company formed in 2007 and have an unconventional approach to watchmaking.
This can be clearly seen in some of the design features of the RGT Punk Rock model; its crown is at the 8 o'clock position instead of the typical 3 and it has an unusually shaped asymetrical case as well as the very unconventional face and dial design.
Read More
[/box]
[box type="shadow"]
March 2010 – Rebellion T1000 – a unique watches with a massive power reserve.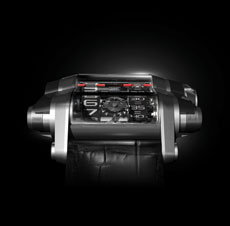 With a mind-blowing power reserve of more 1,000 hours – that's more than 40 days – the T-1000 doesn't simply push back the boundaries of the possible, it destroys them and creates its own reality.
After the successful presentation in January of The Predator, their first watch with a round case, Rebellion launched themselves into the creation of a never-before-realized challenge: creating a watch with a power reserve of more than 1,000 hours!
Read More


[/box]
[box type="shadow"]
March 2010 – Cabestan Nostromo
The Nostromo gathers its inspiration from the world of Sci-Fiction, more specifically the Ridley Scott film "Alien" and the H.R Giger designs used in it, Nostromo being the name of the spaceship.
The Nostromo watch was created in collaboration with master watchmaker Eric Coudray and designer Jean-Francois Ruchonnet and is a new interpretation of their Cabestan Winch Tourbillon Vertical.
[box type="shadow"]
March 2010 – Haldimann H8
Haldimann clocks and watches are all individual and unique pieces, they are all made in-house (except for crystals and straps). Their philosophy is "to focus on the essence, and above all on simplification"
With the H8, Haldimann has taken this philosphy to a radical and uncompromising conclusion, creating a timepiece that has been reduced down to a Tourbillon alone. Its full name is H8 "Flying Sculptura" and its a sculpture for the wrist and symbolizes their concept of reduction. Read More



[/box]
[box type="shadow"]
April 2010 – MCT Sequential One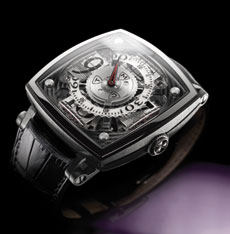 The Sequential One is MCT's (Manufacture Contemporaine du Temps) first watch, another young Swiss company founded in 2007. They describe themselves as making timepieces that "challenge perceptions in the world of luxury
watchmaking and consider ourselves to be in the vanguard of a new wave of exciting Swiss watchmakers."
[box type="shadow"]
April 2010 – Devon Works Tread 1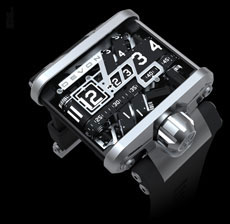 A mixture of electronic and mechanical technology the Tread 1 uses four 2/1000th of an inch belts powered by microstep motors and mounted on central chassis which is powered by rechargeable lithium batteries.
By choosing to power these belts via electronic motors instead of a mechanical movement the cost is reduced substantially.




[/box]
[box type="shadow"]
July 2010- MB&F Thunderbolt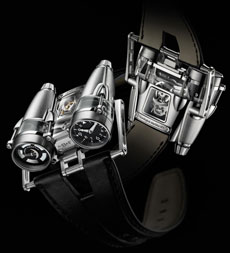 MB&F had been wanting to create an aviation inspired "Horological Machine" especially since Max Busser (the MB part of the name) has had a life long fascination with aeronautics since he was a child building model planes. The main inspiration according to MB&F is the A-10 plane – "Thunderbolt" is one of its nicknames, the top-mounted jet engines providing visual design cues.




[/box]
[box type="shadow"]
October 2010- Hautlence HL2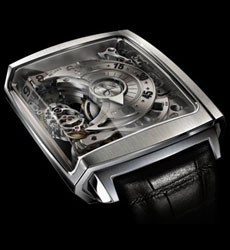 After three years of intense research, Hautlence released the HL2.0. Hautlence calls it a second 'Philosophy of Timekeeping.' This new piece includes three patents and a host of innovations.
The spectacular architecture of this new movement is built around a unique jumping hour on a 12-link chain, moved by a connecting rod system like those used in old steam locomotives. The connecting rod guides the rotation to control acceleration and deceleration, allowing the hours to jump smoothly.


[/box]
[box type="shadow"]
December 2010 – Frederic Jouvenot Helios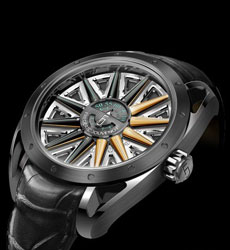 Announced in December and slated for release in January, the latest timepiece from young watchmaker Frederic Jouvenot features an ingenious and innovative way of displaying time.
Jouvenot became inspired to create a series of timepieces based on myths and solar deities after a trip to Greece. This the first one, named Helios after the Greek word for Sun.
The solar theme is symbolized with radiating cylinders representing sun beams. Its one of those rare designs that manages to combine the practical and aesthetical parts perfectly.




[/box]