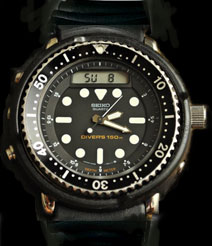 "The Arnie"
Seiko H558-5009
The Seiko H558-5009 was the first dive watch to feature a digital alarm chronograph with combination analog display.
Its nickname came about because it was a favourite watch of Arnold Schwarzenegger and he wore it in "Commando"(1985) and "Predator"(1987)
In order to build a watch that was rugged enough for the toughest adventures Seiko engineers tested it to -40c and up to +60c. The "Arnie" was a forerunner to the Landmaster series.
It was used on adventures to the North and South Poles as well as by an international team of explorers that climbed Everest in 1988.
With other features such as three time zones, chronograph, alarm and backlight, the "Arnie" is also a great 'tool' watch. These days its tricky finding one.
Basic Specifications:
Production date: March 1983.
Diameter: 46 mm (excluding crown).
Thickness: 12 mm.
Lug: 22 mm.
Price: $400-500