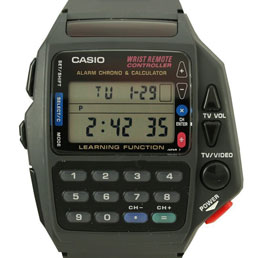 Casio
TV Remote & Calculator watch
With the Databank Calculator watch you won't have to worry that the remote has slipped down the back of the couch again because you will always be in control with this programmable watch remote.
It comes equipped with an infra-red 'learning' function so that most remotes can be 'learned' and programmed to any button. This makes it easy to not only control the Telly but also the fwd, rev, rec, stop functions on the VCR or the settings on the matter transporter or whatever remotely controlled modern appliance you may have.
It also comes with pre-programmed TV settings, and some people have reported that its good fun being able control the TV in the local bar or restaurant you're visiting; when you don't like the selected channel you can sneakily change it, or even lower the volume!
Batteries last about 2 years under typical use and it functions within a 5 meters radius. Model CMD40B-1Z pictured also comes with an 8-digital calculator and day-date-and-month calendar functions.
Databank Calculator watch Company Website: Link
Price: $50